Scratch Map™
Inspiring each other to see the world.

The Scratch Map™ was conceived in 2009 when the team at Luckies, already exploring the use of scratchable foils, realised that applying it to a map would be the perfect way to record your travels. Several prototypes later and our original white-and-gold map, now synonymous with the Scratch Map™ brand, was born. Since then, the Scratch Map™ has gone global with dozens of unique styles, from world maps to national maps, and language editions to limited editions, all featuring high-end materials and print processes. But we've only just scratched the surface!
Perfect for:
explorers, adventurers, holiday planners, memory makers, travel lovers.
HOW IT WORKS
Every Scratch Map™ is covered in a thin layer of scratchable foil. Removing the foil to reveal the vibrant colours and details below creates a personalised and unique piece of wall art that serves as a record of everywhere you've visited. You can also uncover previously hidden detail, fascinating facts and beautiful illustrations.
All official Scratch Map™ products are printed on FSC-certified paper and packed in FSC-certified card tubes. This means our materials are sourced from sustainably-managed forests, leaving the landscapes you visit on your travels untouched.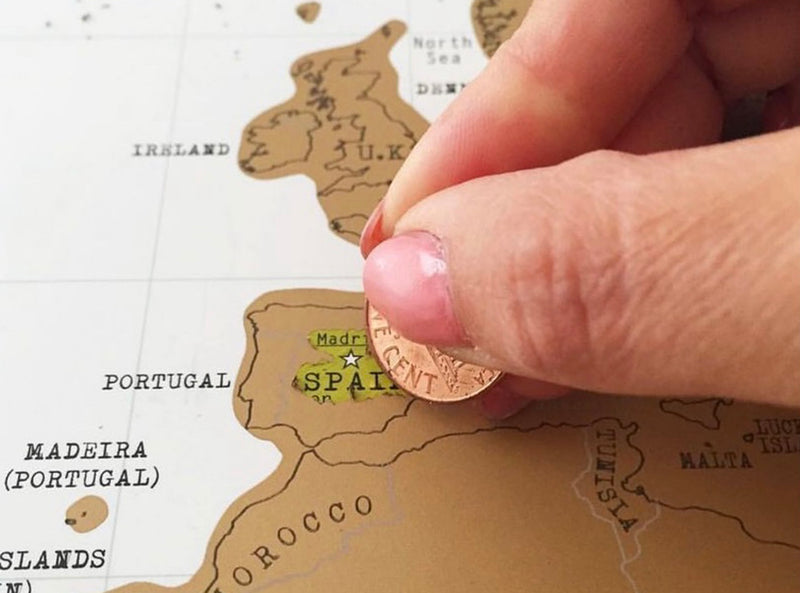 How IT started...
It started back in 2009 after a period of adventure and talking to other people who were on their travels. When discussing which places people had been to previously it became clear that something was needed to help people remember where they had been.
Then came the 'Eureka!' moment. We needed to devise a map that you could somehow record your travels on, not just with a pen, something more interesting than that but equally personal and unique.
At the time we were working on another product that used a foil method similar to scratch cards...why not cover the map in foil, which you then scratch off on the areas you've travelled to? Bingo!
After months of designing, testing and finding just the right materials and printing methods, we hit on the right formula and the Original Scratch Map (the white and gold one!) was born.
Scratch Maps are intended to be hung on your wall to serve as a reminder of your good times travelling, a way to plan your next adventure, and also provide a talking point when your friends are round. With this in mind we started designing different colourways and themed maps, turning into a full and ever growing Scratch Map range.
Whatever size or colour you're looking for, there's a Scratch Map just for you.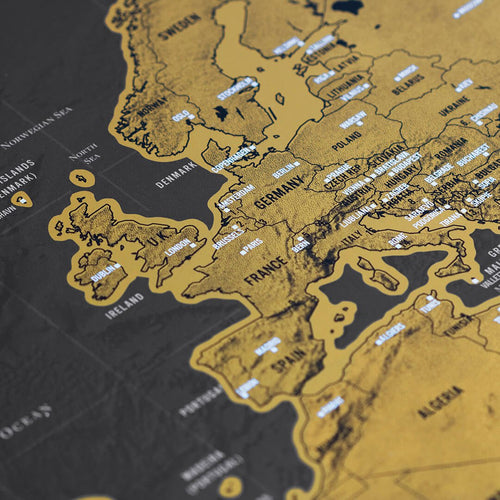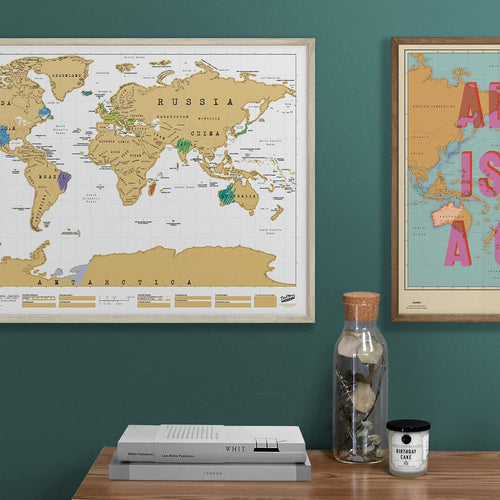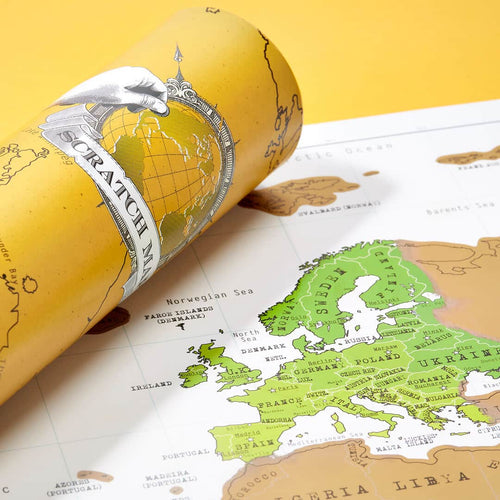 Perfect for:
explorers, adventurers, holiday planners, memory makers, travel lovers.