Our most luxurious Scratch Map® poster yet
Over £30 Express UK Delivery (1-3 days)
FREE
Under £30 Express UK Delivery (1-3 days)
£3.95
Where the Scratch Map® map concept started - Scratch Map Original® map is the first Scratch off Map poster we ever designed. Scratch Map® Original map has since become our best selling product, and seems to be a universally popular gift with young and old alike. Whether it's for your jet set sister's birthday, or a well travelled uncle, Scratch Map Original map will look great on any wall! Scratch Map Original map features a gold foil top layer which means that once a country has been visited, the intrepid traveller gets to remove the gold foil layer to reveal beautifully vibrant colours and detail beneath. You'll soon find yourself making excuses not to holiday in the same place every year, or trying to convince your other half you simply must visit Antarctica - all because the race to reveal the Scratch Map poster in it's naked form with no foil left has got the better of you. Thought you weren't competitive? You will be when you get your Scratch Map map and catch the wanderlust bug...

Taking off the gold foil also reveals amazing facts about our world. Packaged in a super high quality matte finish tube, Scratch Map® maps make a truly thoughtful and personal gift; the perfect present for the globe trotter in your life, or maybe the dreamer that always has their next trip in mind. Or better still keep it for yourself and create the ultimate personal record of your travels by tracking all your adventures on your very own Scratch Map poster.

- Remove the foil top layer to record your travels

- Includes US and Australian state lines and Canadian provinces and territories

- For best results use a coin to remove foil

- Made in the United Kingdom

Dimensions: 82.5 x 59.4 cm

Materials: laminate, coloured foil, paper

 

United Kingdom:
Express UK delivery options (1-3 days tracked via UPS) are as follows:
£30 and over - FREE
Under £30 - £3.95
All deliveries are with UPS so you will receive tracking information once your order has despatched from our warehouse.

International:
International options coming very soon...
About Scratch Map™.
Inspiring each other to see the world.

The Scratch Map™ was conceived in 2009 when the team at Luckies, already exploring the use of scratchable foils, realised that applying it to a map would be the perfect way to record your travels. Several prototypes later and our original white-and-gold map, now synonymous with the Scratch Map™ brand, was born. Since then, the Scratch Map™ has gone global with dozens of unique styles, from world maps to national maps, and language editions to limited editions, all featuring high-end materials and print processes. But we've only just scratched the surface!
Perfect for: explorers, adventurers, holiday planners, memory makers, travel lovers.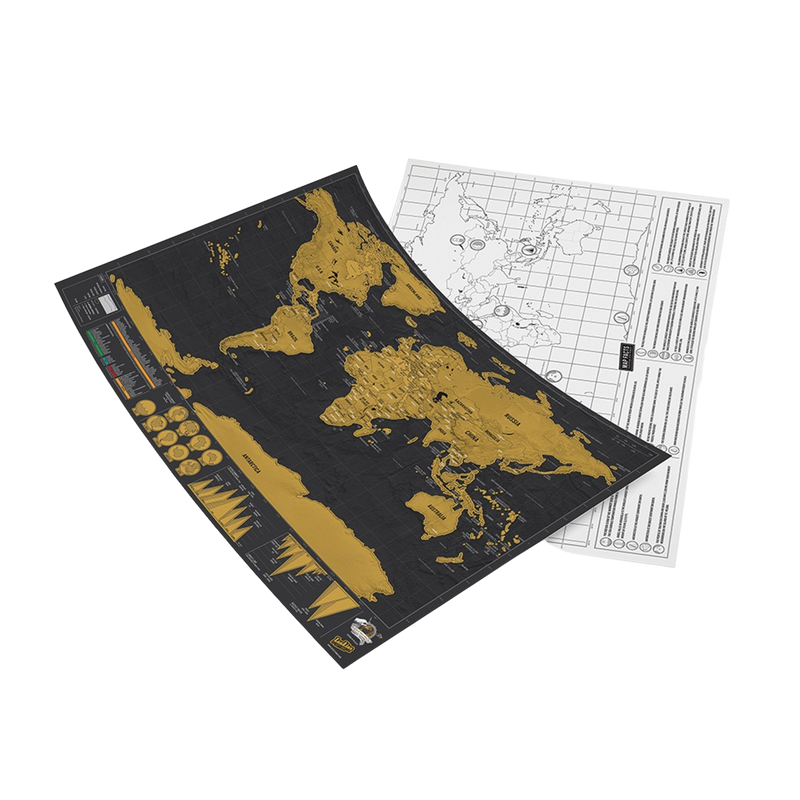 See what the people think
Luckies is a website offering you the chance to buy something very original and something you won't get on the high street. The range of gifts is extensive and many are original and bring a smile to your face, as you choose an item knowing the recipient will have a big smile too.
- Brian Watcham
I ordered the scratch off world map as a wedding gift. The order came in good time, packaged really well to protect it and looks absolutely beautiful. Looking forward to giving it to the newly weds. Great service and on time delivery.
- Mita Patel
I ordered the rock on headphone stand on the 21st December and it arrived as promised the very next day. It was a last minute gift for my son and he absolutely loves it...A must buy for any rock fan 🤘🏾🤘🏾
- Emma Weatheritt
Luckies is a website offering you the chance to buy something very original and something you won't get on the high street. The range of gifts is extensive and many are original and bring a smile to your face, as you choose an item knowing the recipient will have a big smile too.

- Brian Watcham

I ordered the scratch off world map as a wedding gift. The order came in good time, packaged really well to protect it and looks absolutely beautiful. Looking forward to giving it to the newly weds. Great service and on time delivery.

- Mita Patel

I ordered the rock on headphone stand on the 21st December and it arrived as promised the very next day. It was a last minute gift for my son and he absolutely loves it...A must buy for any rock fan 🤘🏾🤘🏾

- Emma Weatheritt