Scratch Map™ Artist's Edition - Dave Buonaguidi
Adventure Is Always A Good Idea
Over £30 Express UK Delivery (1-3 days)
FREE
Under £30 Express UK Delivery (1-3 days)
£3.95
The worlds of art and Scratch Maps collide as Luckies teams up with renowned artists to bring you original and exclusive world maps for recording your adventures. Own a piece of wall art that's totally unique and personal to you as you remove the top layer of gold foil for each country you visit. The perfect statement piece for your home which you can revisit and customise time and time again.

This edition features original work by Dave Buonaguidi. He can most often be found screen printing in East London, working with found images and materials, with a fondness for salvaging vintage maps. He overprints each object with bold, thought-provoking slogans using bright, in-your-face type. In 2003 he created the iconic 'Make Tea Not War' poster for the anti-war march, and which is now part of the collections at the V&A and the Trento museum of modern art.

- Scratch Map™ Artist's Edition – artwork by Dave Buonaguidi

- Record your adventures by removing gold foil layer

- A1 size (84.1cm x 59.4)

- Gold foil on matte paper

- For best results remove foil with a coin

- Made in the U.K.

Dimensions: map: 84.1cm (H) x 59.4cm (W), pack: 62cm (H) x 6.5cm (W) x 6.5cm (D)

Materials: paper, gold foil

 

United Kingdom:
Express UK delivery options (1-3 days tracked via UPS) are as follows:
£30 and over - FREE
Under £30 - £3.95
All deliveries are with UPS so you will receive tracking information once your order has despatched from our warehouse.

International:
International options coming very soon...
About Scratch Map™.
Inspiring each other to see the world.

The Scratch Map™ was conceived in 2009 when the team at Luckies, already exploring the use of scratchable foils, realised that applying it to a map would be the perfect way to record your travels. Several prototypes later and our original white-and-gold map, now synonymous with the Scratch Map™ brand, was born. Since then, the Scratch Map™ has gone global with dozens of unique styles, from world maps to national maps, and language editions to limited editions, all featuring high-end materials and print processes. But we've only just scratched the surface!
Perfect for: explorers, adventurers, holiday planners, memory makers, travel lovers.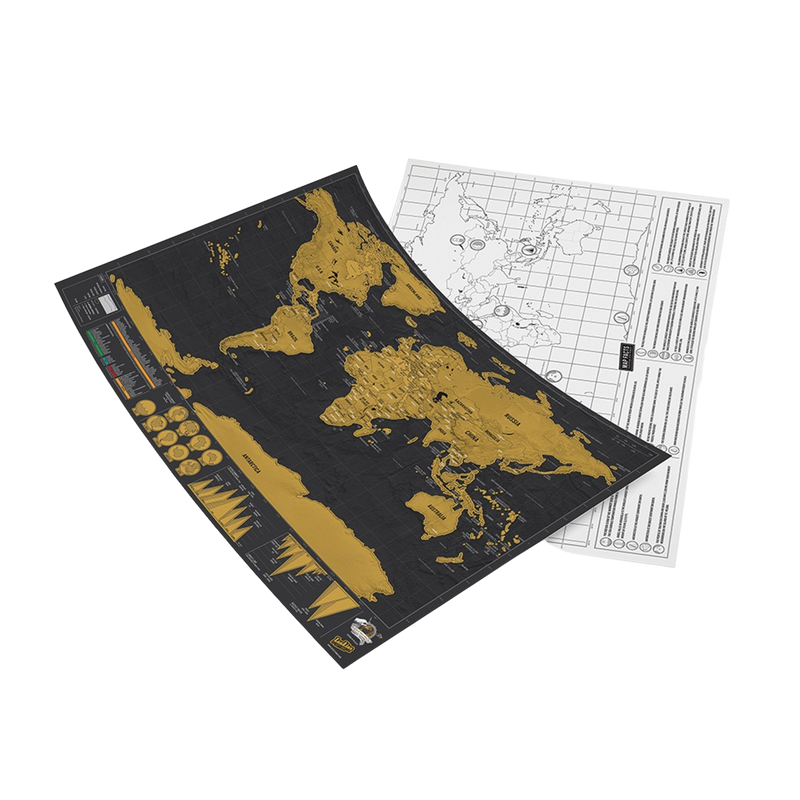 See what the people think
Luckies is a website offering you the chance to buy something very original and something you won't get on the high street. The range of gifts is extensive and many are original and bring a smile to your face, as you choose an item knowing the recipient will have a big smile too.
- Brian Watcham
I ordered the scratch off world map as a wedding gift. The order came in good time, packaged really well to protect it and looks absolutely beautiful. Looking forward to giving it to the newly weds. Great service and on time delivery.
- Mita Patel
I ordered the rock on headphone stand on the 21st December and it arrived as promised the very next day. It was a last minute gift for my son and he absolutely loves it...A must buy for any rock fan 🤘🏾🤘🏾
- Emma Weatheritt
Luckies is a website offering you the chance to buy something very original and something you won't get on the high street. The range of gifts is extensive and many are original and bring a smile to your face, as you choose an item knowing the recipient will have a big smile too.

- Brian Watcham

I ordered the scratch off world map as a wedding gift. The order came in good time, packaged really well to protect it and looks absolutely beautiful. Looking forward to giving it to the newly weds. Great service and on time delivery.

- Mita Patel

I ordered the rock on headphone stand on the 21st December and it arrived as promised the very next day. It was a last minute gift for my son and he absolutely loves it...A must buy for any rock fan 🤘🏾🤘🏾

- Emma Weatheritt