We'll be donating 15% of sales to charity.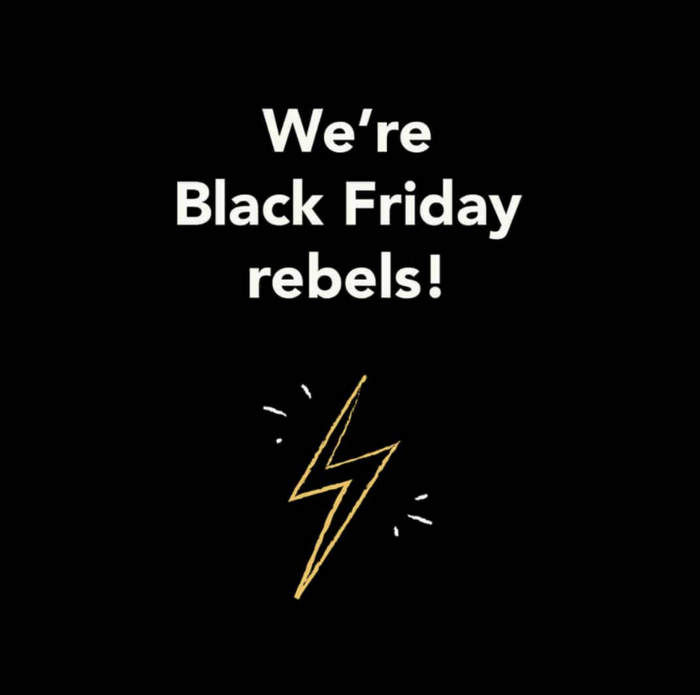 Random
The idea of being #BlackFridayRebels is simple; rather than offering a discount on our products over the Black Friday/Cyber Monday weekend we'll be donating 15% of sales to charity. We're rebelling against the idea that all types of retailers (big and small) and maker/sellers should be forced to offer a discount just because it's expected.
There's nothing wrong with giving people a good deal (you can catch us giving discount or having a sale now and then) but we're not really into the scramble Black Friday has become. It doesn't work for all businesses, particularly smaller ones. We'd rather turn it into something a bit more positive. If you can snag yourself a TV for £1 more power to you, but let's try and balance things out a little.
IT's BEEN A TOUGH YEAR FOR MENTAL HEALTH.
This year our chosen charity is Mind – the mental health charity which offers invaluable information and advice to people experiencing mental health issues.
2020 has been a very challenging and uncertain year for many people, some of whom may have existing mental health issues, others perhaps experiencing them for the first time. Mind provide support to individuals who need it and also campaign to improve services and raise awareness.
We all have mental health just as we all have physical health. Some days your back might hurt, others you may feel anxious or depressed. On good days both will feel fine. An important part of the work Mind do is promoting understanding of mental health issues to remove the stigma which some people experience when they're suffering. Removing this stigma will make it more likely people will talk to each another and seek help when they really need it.
In addition to the support we're giving Mind this Black Friday weekend, we also support a charity local to us through year round sales of our Calm Club range. The Avenues Youth Project has been one of London's leading youth centres for over 40 years. They provide a safe space for children and young people aged 8 to 18 to play and socialise, develop friendships, acquire new skills, and receive advice, support and encouragement from their team of trained youth workers.
Over the last year we have donated over £5,500 to The Avenues through Calm Club sales.